Welcome to the Holzman Folk Traditions site!
Here you can find information about the products and services that we can provide, as well as useful information about nyckelharpas.
In September 2015, Earl and our son, Ian, were interviewed for Wisconsin Life, a program on Wisconsin Public Radio. Here is a link to the broadcast, which was aired in December.

We've added a Calendar page under Activities. We will be listing dates and places where at least one of us will be if you want to talk or see our instruments, bows or other nyckelharpa related merchandise. Earl will be traveling to the West Coast soon, with several presentations set for Denver, CO, San Francisco, CA, Portland, OR, Seattle, WA, and Missoula,MT. More information is on the Calendar page.
We have also added a Beginner Nyckelharpas page, which discusses the attributes of a beginner instrument versus an advanced instrument. We also suggest a source for beginner instruments, as Earl is not building those anymore.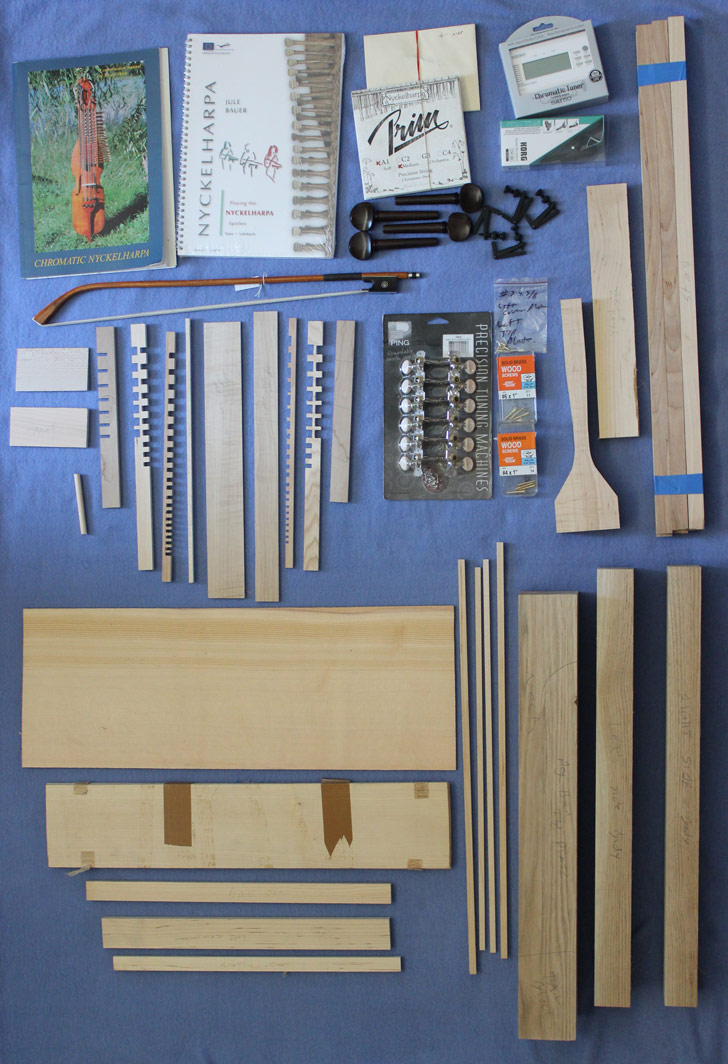 Several new pages have been added to the photo gallery. There are now pictures of the new tenor nyckelharpas as well as the 4-rowed beginner and intermediate soprano range instruments.

In January of 2016, we were asked about putting a kit together, which Earl did. Here's a picture (left) of all the pieces.
We have been involved in building nyckelharpas since 2009. During this time we have asked a lot of questions. We do not consider ourselves to be expert musicians, but we do know a lot about nyckelharpas. This site provides brief discussions and opinions on a number of issues related to nyckelharpas.

Neither Earl nor DoAnn have any ethnic lineage connecting them to any Scandinavian country, including Sweden. Our connections are based on shared interest in cultural activities and friendships we have made through the years. We met while doing Scandinavian folk dancing. We do respect that there is a well-defined Swedish Nyckelharpa tradition, but in the American cultural melting pot tradition, we encourage and support the use of this great sounding instrument for all types of music.

We have been folk dancers for most of our lives, and teachers of folk dancing for more than 25 years. We host English Country dances monthly. See our Activities > English Country Dancing page for more information on dates and times.

The site is a work in progress … we will be adding items as we are able.

We hope you find our site helpful.

(Note: Any text that is a different color and underlined is a link to another web page. Clicking on it will take you there.)
(Site last updated on 12/29/2016)