What is a Beginner Nyckelharpa?
The nyckelharpa in Sweden is a traditional folk instrument. When Earl was in Sweden studying the building of them, one of the things Earl picked up on is that the Swedes are justifiably very proud of this being a Folk instrument. This is part of why they often look a bit rustic (not real precise high level woodworking details, often use simple/dark stains, wood burning for ornamentation).   Many Swedish nyckelharpas look a bit rough by professional luthier standards. This is sometimes intentional and does not necessarily indicate that it is a beginner instrument.  Many people in the Swedish traditional nyckelharpa community think this is how the instrument is supposed to look.
The nyckelharpa is often played by people who may not have formal music training; this is very common with traditional/folk music. If a player has a basic instrument that meets their needs and they are happy with it, great! But if the player works to get better and discovers that they need faster keys so they can do better ornamentation, they also develop an understanding that there is a wide range of what type of sound you get out of an instrument, or that extra keys will give them more options on what they can play, and it is time to get a better instrument.

One of the biggest issues is cost. There are no factories making cheap nyckelharpas, they are all hand made. There are some significant nuance issues in getting precise fast keys, having all the keys sound good, getting good sound profiles across all the strings, adding extra keys, extra rows of keys, and getting different types of sound out of an instrument body. There is now a significant range of types, styles and quality of nyckelharpas being built.

In Europe outside of Sweden, this is now a world music instrument with many musicians wanting different characteristics from their instrument, and the builders have responded. Earl believes that it is difficult for a new player to make an informed decision on an advanced instrument until they know what will meet their playing needs.

If you get lucky you may find a few instruments available in the less than $1500 price range.  It is not uncommon for a beginner nyckelharpa kit (nyckelharpa, bow and case) to be about $2500 (plus shipping).
About Nyckelharpa Builders:
In Sweden, most of the builders are retired men who learned how to build nyckelharpas from other Nyckelharpa makers.  Most of them do not have formal "luthier" training.  They have a good basic plan for a 3-rowed instrument, but for the most part, do not understand how to modify the instrument to get a 4th row of keys to sound good.
Outside of Sweden, in Europe, many of the builders have gone through a violin maker's apprenticeship (old-style guild training, typically 3 years, full time).  They are well-trained luthiers who know the woodworking and music/wood instrument theory to know how the modify instrument design for different sizes.  Most of these builders can make good sounding 4-rowed nyckelharpas in different ranges.  They are making instruments with different sound profiles for use in different types of music.
What is a beginner nyckelharpa? Here are some of their characteristics:
A beginner nyckelharpa allows new players the opportunity to play a nyckelharpa without investing a lot of money. 
 The keys are often not very fast. 
The neck will probably be wider, which adds weight. 
They typically only have the common 7-10-20 key set (7 keys on the G-string, 10 on the C/D string and 20 on the A string). 
A beginner nyckelharpa may also not sound as good and feel bulky as compared to a more advanced instrument. The sounds for these instruments can vary significantly, as some are loud (good for outside playing), while others are softer. Weights can differ as well.
The sound may not be even across the instruement.
What do you get with an intermediate/advanced nyckelharpa?
A nyckelharpa for a more advanced player must have a very fast keyboard without the use of springs or foam. A beginner player cannot take advantage of these fast keys before they to learn proper bow and playing techniques.
The neck is usually narrower, although if there is a 4th row of keys, the neck can get wide again.
They will often have a 4th row of keys.
They should be made using materials, glues and methods that make them easy to repair and maintain.
Some advanced nyckelharpas incorporate tapered sides that make the back a little smaller and result in being less bulky.  This reduces weight and easier to hold for a smaller person.
Some advanced nyckelharpas incorporate bent-wood sides, like what you find on a violin or guitar.  This can significantly reduce the weight.  Some builders use figured maple for the bent-wood sides.
If the nyckelharpa is made by an experienced builder, there will also be a number of very minor details, that when added all together, give you a much better sounding, easier to play instrument.
Where to get a beginner nyckelharpa?

There are several builders in the United States that have made a few beginner nyckelharpas.  Many do not advertise.
There are a few available on the used market.  Current nyckelharpa players may know if there are any.  Sometimes they show up available on the web.
Some people contact Swedish builders and have one sent, often sight unseen.  Whatever shows up is what you get.
Some people will travel to Sweden to get a nyckelharpa.  If you do this, remember that at least some of the cost of the trip should be considered as part of the instrument cost.
Earl does not currently build beginner nyckelharpas. He is now making 4-rowed intermediate and advanced soprano, alto and tenor instruments. An advanced key set is now available, which he puts on the advanced models.
We recommend Holger Funke as a source for beginner Swedish-style nyckelharpas. We met Holger at the International Days of the Nyckelharpa in Germany and have visited with him at his shop. Holger has been involved with nyckelharpas since 1987. He studied building techniques with several builders in Sweden, and is an excellent player. He lives in Germany, but usually spends at least one month every year in Sweden. His band, Poeta Magica, plays the Medieval Festival in Visby every year.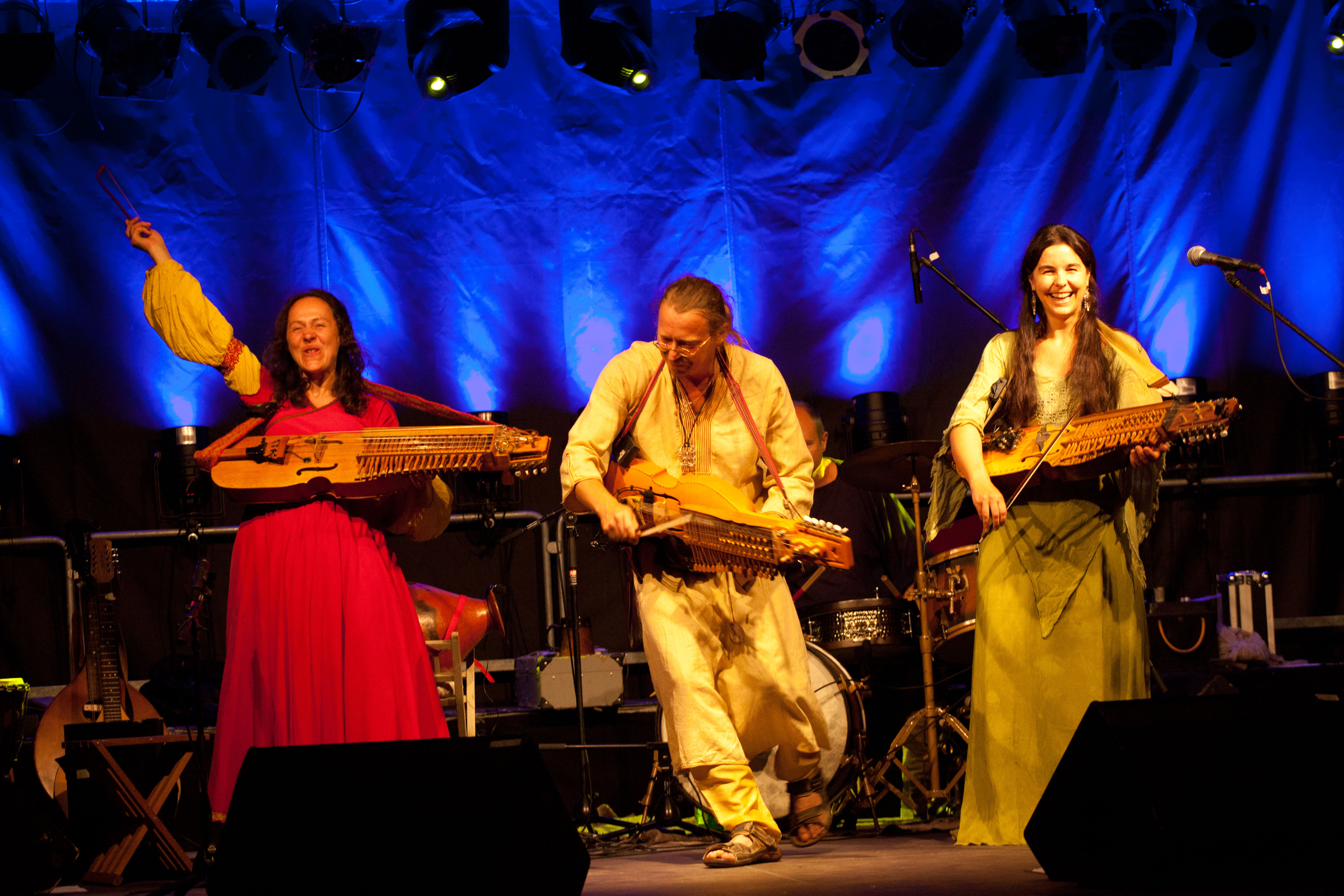 He "fell in love" with the older, used nyckelharpa because they are unique, and often one-of-a-kind; you can't reproduce them.  A lot of them are made by a person who made only this single instrument. Holger believes they should get a second chance in life, so he searches out old nyckelharpas and restores them to a playable condition.

Holger also sells new nyckelharpas made by several different Swedish builders.  He reviews them to make sure they are fully functional before he ships them.

With a nyckelharpa from Holger, you can get a nyckelharpa at a reasonably price, is often unique, and is built in the Swedish traditional way. If you are interested in purchasing an instrument from Holger, it would be good for him to know how you are going to play the instrument, so he can better match the instrument to your needs.

Holger provides a warrantee on instruments he sells. Please contact him about exactly what is covered. Earl does warrantee service for nyckelharpas in the United States purchased from Holger.
Please check out Holger's ensemble "Poeta Magica". This is a world music band that uses nyckelharpas.
(Note: any text that is a different color and underlined is a link to another web page. Clicking on it will take you there.)
(Site last updated on 11/29/2018)