Nyckelharpa Cases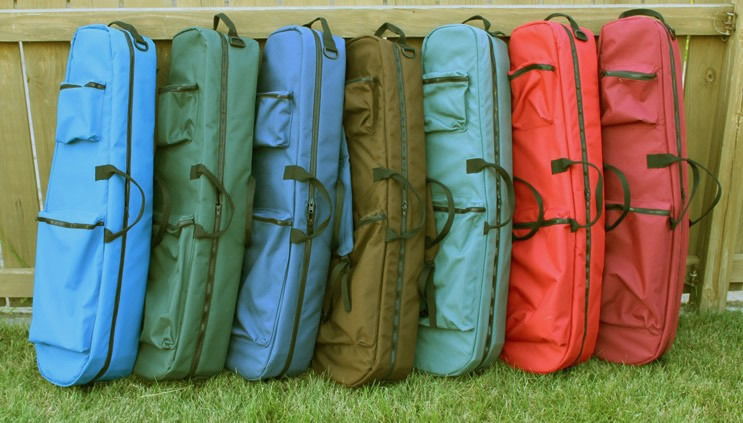 Earl has modified hard plastic gun cases with wheels. Contact him for more information on availability and prices.
He has also contacted a case maker in California who specializes in airplane checkable instrument cases. We have one for a nyckelharpa available. There are removable wheels for this case which when removed, have a storage space inside the case.
We have recruited a longtime friend, Tammy Lehmann, a master seamstress who specialized in making draperies to make nyckelharpa cases. The cases fit normal adult size instruments up to 39 1/2" (100 cm). All cases are made of waterproof packcloth (used to make backpacks and outdoor furniture), velour or brushed nylon lining, polyester padding, plastic corrugated board, and bendable foamcore. They are hand washable; air dry. The cases can be modified to fit other sizes of nyckelharpas.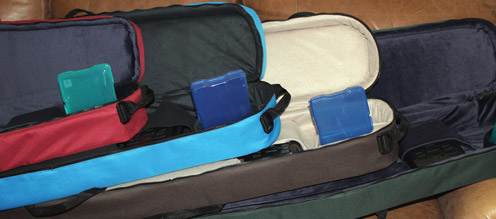 Two of these cases (with instruments) have traveled with Earl on several occasions as carry-on luggage with no problems from the airline (SAS and United). Two of them take up about the same amount of room as two carry-on suitcases in the overhead compartment. Make sure you board early so there is room in the overhead compartments.
Case colors: The included photos show a selection of colors that may or may not be available. We get fabric from a large warehouse store in the Minneapolis area which has a large but sometimes random selection of colors. If you desire a special color that Tammy does not have on hand, contact her to discuss this. If you can provide the fabric, this will reduce the cost of the case a bit. Please contact us for current availability of cases and color options.
CLASSIC CASE has a plain outside on the case, with strap handles only. Inside is the same as a standard case. $310.00 + shipping.
STANDARD CASE has an external music pouch and a smaller pouch on the lid, internal bow box for 2 bows up to 22" (56 cm.) long; sturdy padding for tailpiece, bridge, and keys; 2 plastic boxes for tuners, rosin, strings, and whatever else. Backpack straps are removable and adjustable. There are handles at each end with "D" rings for an optional shoulder strap. This case weighs 3 1/2 lbs. (1.6 kilograms). $380.00 + shipping.
The standard case for a Tenor nyckelharpa (Johan Hedin style) is $415.00 + shipping. The price for an Octave nyckelharpa is $425.00 + shipping.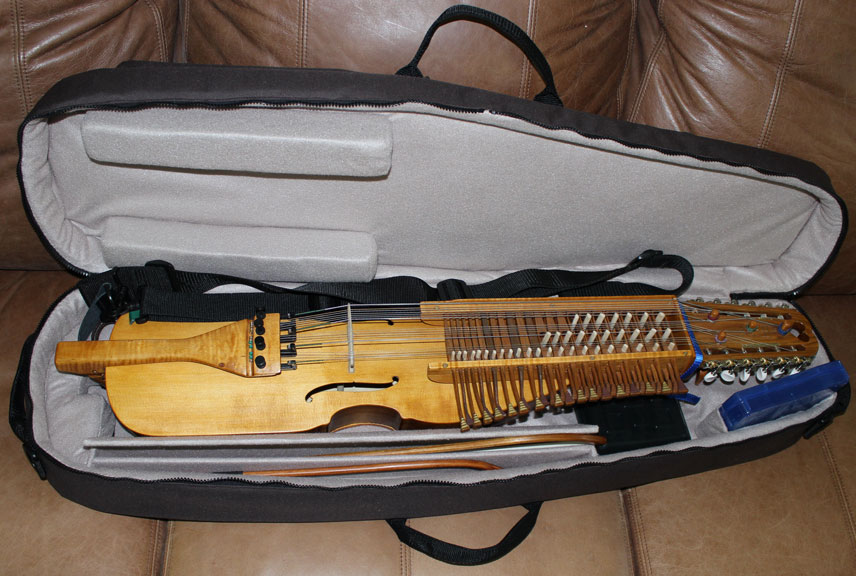 DELUXE CASE has all the amenities of the standard case, plus a removable roomy pouch to carry anything else you wish to carry with this case, and a detachable shoulder strap. $420.00 + shipping.
These cases were designed to carry the nyckelharpa with the keys pointing up towards the handles. This way, if you accidentally drop the case, the keys have better protection.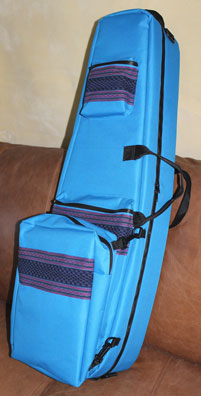 The inside of all cases are the same, except for the colors of the fabric used. Lining fabric is crushed velvet or similar plush fabric, in various colors. You can ask about current color availability.
Custom cases are available. Tammy can add or subtract any of the features on the outside of the case. The backpack straps can be made as a permanent fixture if desired. Size of the case can also be adjusted for smaller or larger instruments. Prices will be adjusted accordingly. The case to the right was a custom order deluxe case. The customer sent special strapping material to be added to the front of all the pockets.
Contact information:
Tammy Lehmann: phone, 001.715.579.6521; email, DraperyTam[at]gmail.com.
Note: If calling, you may need to leave a message so she can call you back. (There are too many telemarketers.) She tries to check email every day. Please be patient, as she is busy.
(Page last updated on 01/03/2023)