Nyckelharpa Books & CDs
Below are the books and CDs that we keep in stock.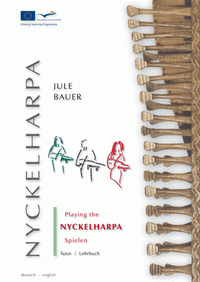 Playing the Nyckelharpa book (in German and English) by Jule Bauer - This instruction book is aimed at beginner level Nyckelharpa players, providing a systematic, auto-didactic approach, dealing first with the history and construction of the instrument, and then progressing onto essential basics such as different instrument and bow holds. The player is guided step by step from the first bow strokes through proper technique in various keys and styles. The book contains over 50 melodies which provide the player with an exciting and varied repertoire that is carefully chosen to support the learning progress. Numerous exercises help the player work through the 22 Chapters, with many pictures illustrating the content. In the appendix the author deals comprehensively with physiological concerns associated with playing a musical instrument.
All melodies included in the instruction book are written for nyckelharpas with three and four rows of keys, also for both tunings, the Swedish C-G-C-A, and the continental European, C-G-D-A. A special feature of the publication is that all melodies in the book can be downloaded as MIDI files from the author's website, which allows the player to play by ear, or as a demonstration.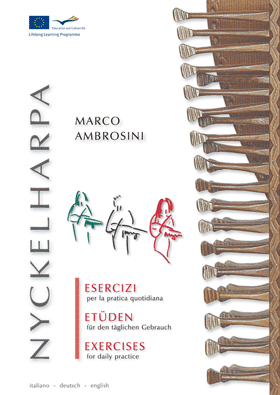 Nyckelharpa Exercises book (in Italian, German and English) by Marco Ambrosini - This book addresses the increasing demand for etudes for players to practice and improve their technique with the nyckelharpa, collecting 21 exercises, each arranged for instruments in multiple tunings, to ensure that all players can benefit from the work regardless of whether their instrument has 3 or 4 rows of keys, or uses the traditional Swedish (CGCA) or 'continental' (CGDA) tuning. The book also includes an introduction discussing the different tuning styles and their practical differences, what those differences mean to students and teachers of the instrument, and advice for how best to approach the exercises which are the core component of the book.
Nyckelharpa Network Orchestra CD - Live concert recoding made on August 24, 2008 in Forlimpopoli Italy. Wonderful music to listen to. An assortment of old and new tunes arraigned for nyckelharpa orchestra.
Carpe Harpam CD - October 2009 concert recording at Burg Fursteneck. The recording is of a Nyckelharpa Orchestra playing several classical music pieces as well as traditional and modern compositions.
CADENCE Nyckelharpa Project, book w/CD - This book is about the CADENCE project: Cultural ADult Education and Nyckelharpa Cooperation in Europe. This is a cooperative project between the Eric Sahlström Institute in Sweden, the Akademie Burg Fűrsteneck in Germany, and the Scuola di Musica Popolare di Forlimpopoli in Italy. The contents are a collection of articles about nyckelharpas in Europe with a CD of a wide range of music, from medieval to modern, played by the Nyckelharpa Orchestra, recorded live at Burg Fűrsteneck in October of 2011.
ENCORE Live European Nyckelharpa Orchestra CD -
Live concert recoding made on August 2013 in Forlimpopoli Italy. A concert of modern compositions specifically composed for nyckelharpa orchestra.
All of these publications are available through us. Here is a link to the publications order form.
(Note: Any text that is a different color and underlined is a link to another web page. Clicking on it will take you there.)
(Page last updated on 9/01/2014)