Nyckelharpa Books & CDs
Below are the books and CDs that we keep in stock.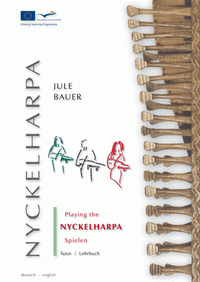 Playing the Nyckelharpa book (in German and English) by Jule Bauer - This instruction book is aimed at beginner level Nyckelharpa players, providing a systematic, auto-didactic approach, dealing first with the history and construction of the instrument, and then progressing onto essential basics such as different instrument and bow holds. The player is guided step by step from the first bow strokes through proper technique in various keys and styles. The book contains over 50 melodies which provide the player with an exciting and varied repertoire that is carefully chosen to support the learning progress. Numerous exercises help the player work through the 22 Chapters, with many pictures illustrating the content. In the appendix the author deals comprehensively with physiological concerns associated with playing a musical instrument.
All melodies included in the instruction book are written for nyckelharpas with three and four rows of keys, also for both tunings, the Swedish C-G-C-A, and the continental European, C-G-D-A. A special feature of the publication is that all melodies in the book can be downloaded as MIDI files from the author's website, which allows the player to play by ear, or as a demonstration.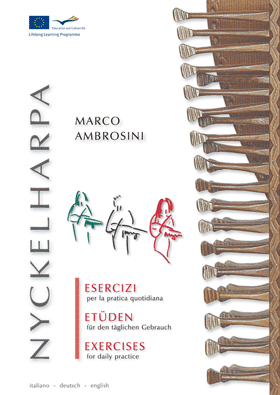 Nyckelharpa Exercises book (in Italian, German and English) by Marco Ambrosini - This book addresses the increasing demand for etudes for players to practice and improve their technique with the nyckelharpa, collecting 21 exercises, each arranged for instruments in multiple tunings, to ensure that all players can benefit from the work regardless of whether their instrument has 3 or 4 rows of keys, or uses the traditional Swedish (CGCA) or 'continental' (CGDA) tuning. The book also includes an introduction discussing the different tuning styles and their practical differences, what those differences mean to students and teachers of the instrument, and advice for how best to approach the exercises which are the core component of the book.
Tablatures for 4-row Chromatic Nyckelharpa book (in Italian and English) by Marco Suppo - This book aims to help anyone who is interested in playing the nyckelharpa and making the most of one of it's characteristic features: the keyboard. The keyboard allows you to play various notes simultaneously (chords) and the tabulature is the fastest and most efficient tool to grasp the polyphonic potential. This specific study for four-string-nyckelharpa with continental / european tuning features a collection of tabulatures and exercises for the most frequent chords. From this point on it is up to the musician's imagination to add hues and flavour to any genre of music on their own as well as in ensembles. This book contains 200 pages, printed in colour, and starts with a foreword written by Marco Ambrosini.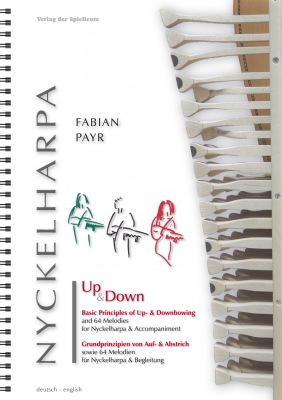 Basic Principles of Up- & Downbowing book (in German and English) and 64 Melodies for Nyckelharpa & Accompaniment by Fabian Payr - Whoever wants to bring the Nyckelharpa's rich sound to life should master the art of bowing. This includes, among other things, an appropriate use of up- und downbows. Making music on the basis of the bowing rules includes both body and gravity and also takes into account the constructive characteristics of the bow. In the first part of this book some basic principles of a meaningful and musical distribution of up- und downbows are explained and a multitude of bowing patterns are introduced. A famous violin teacher from the past also has his say: Leopold Mozart. The rules from his "Gründliche Violinschule" are over 260 years old - but still a valuable inspiration today. The theoretical part is supplemented by an extensive collection of pieces in which the application of the bowing rules is shown in practice - with a multitude of pieces from different epochs and different areas of international folk music.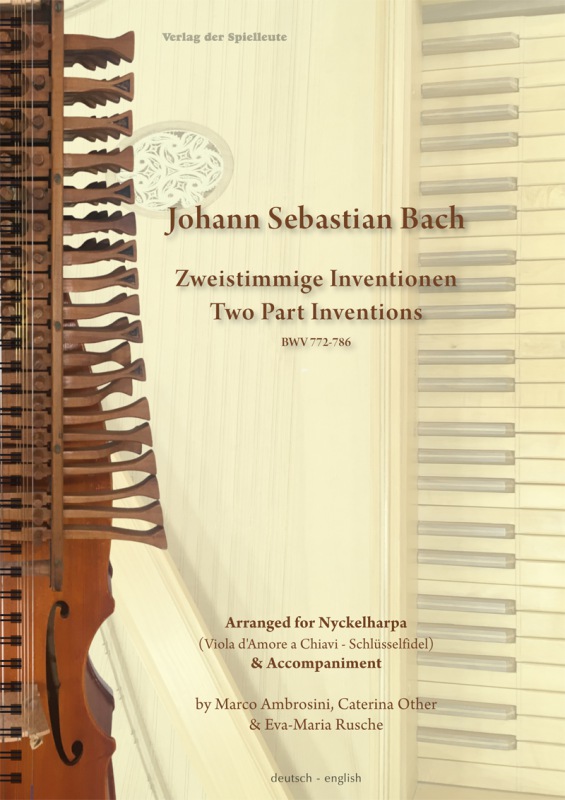 Johann Sebastian Bach Two Part Inventions Arranged for Nyckelharpa & Accompaniment (in German and English) by Marco Ambrosini, Caterina Other & Eva-Maria Rusche - Johann Sebastian Bach was primarily a keyboard instrumentalist, but he is said to have been an excellent string player, too. Many of his works for keyboard instruments lend themselves wonderfully for performances on stringed instruments. The nyckelharpa, which at that time, was very probably not known in German-speaking areas, perfectly melds Bach's two musical souls. With its very special articulation possibilities, the bow leads through the melodic and rhythmic twists and turns of the individual parts, the keyboard with its keys and tangents enables precise intonation, and there is an open string sound for each note - ultimately this provides possibly a unique transparency of the complex harmonic structure of his works. We should also not forget the sympathetic strings of the instrument, which due to the fact that the played notes sound longer, thus enable a better sensing of the harmonic connectedness.
Fantasies of two, three & six parts (in English) arranged for Nyckelharpa by Caterina Other & Marco Ambrosini - One of the most versatile English composers of his time, Gibbons wrote a large number of keyboard works, around thirty fantasias for viols, a number of madrigals (the best-known being "The Silver Swan"), and many popular verse anthems, all to English texts. The polyphonic fantasia and dance forms are the best represented genres. Gibbons's writing exhibits a command of three- and four-part counterpoint. Most of the fantasias are complex, multi-sectional pieces, treating multiple subjects imitatively. Gibbons's approach to melody, in both his fantasias and his dances, features extensive development of simple musical ideas.
Why should Orlando Gibbons's works be performed on the nyckelharpa? In the last few years, we have noticed great interest in performances of Early Music by nyckelharpa players! Our beloved instrument, not only as a one more or less correct historical reconstruction, e.g. of the so-called "Siena keyed vielle" or the "Moraharpa", but also in its modern 4-row "continental" version, and its sound suit the music from the Late Middle Ages to Baroque perfectly. Gibbons's consort works have an exciting sound when performed by two or more nyckelharpor. This edition of the Fantasies is designed especially for 4-row nyckelharpa, tuned in fifths. Note that in nearly all cases, the upper voices are also suitable for 3-row instruments in both the traditional and fifth tunings.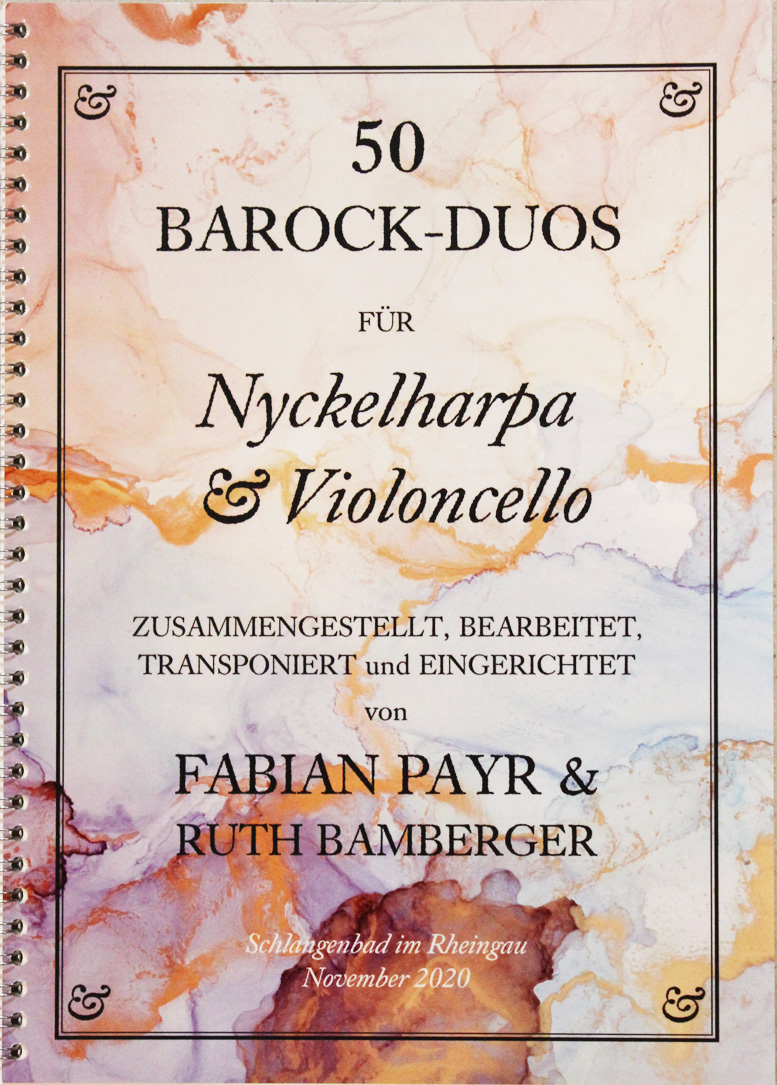 50 baroque duos for nyckelharpa & violoncello (in English & German) compositions by: J.S. Bach, J. Clarke, F. Couperin, J.-F. Dandrieu, C. Graupner, G.F. Handel, J.L. Krebs, B. Marcello, C. Petzold, J. Ph. Rameau, G.P. Telemann. Edited by Fabian Payr and Ruth Bamberger. The adaptations were largely based on compositions for harpsichord. Level of difficulty: easy to intermediate.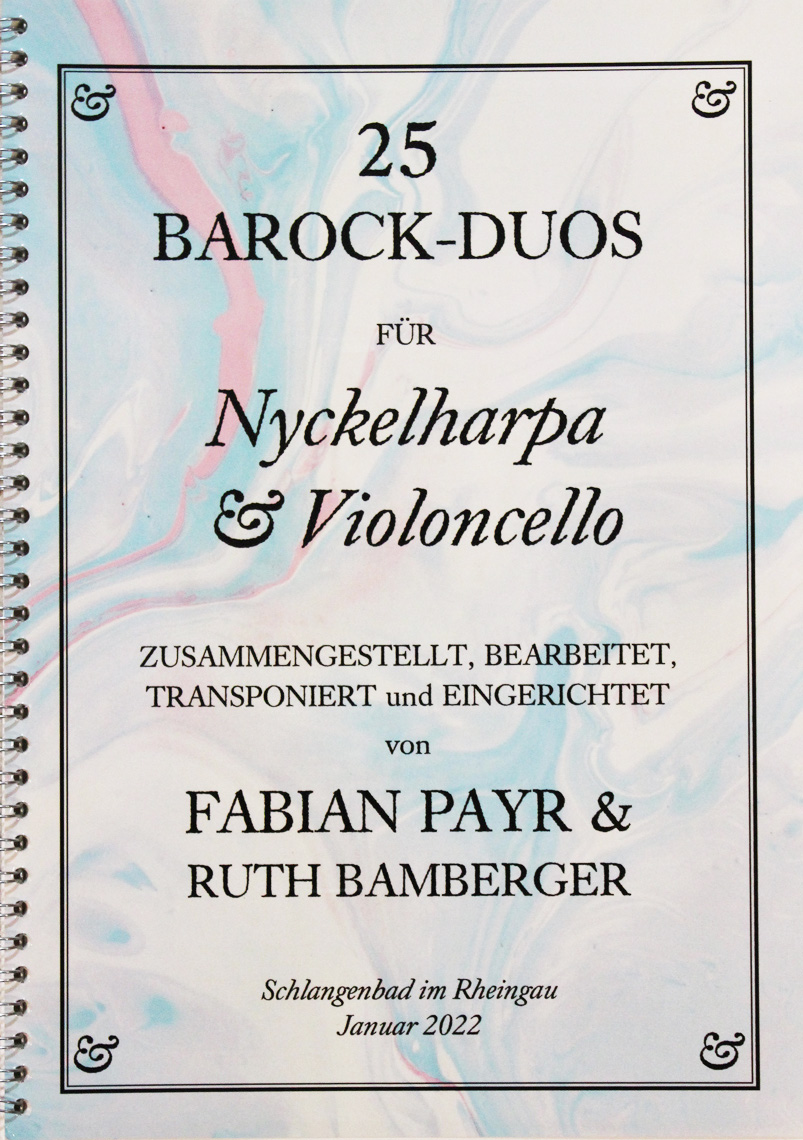 25 baroque duos for nyckelharpa & violoncello (in English & German) compositions by: J.S. Bach, E.G. Baron, G.F. Handel, B. Marcello, G.P. Telemann, R. de Visee, A. Vivaldi. Edited by Fabian Payr and Ruth Bamberger. The adaptations were largely based on compositions for harpsichord. Level of difficulty: intermediate.
Liveret No 1 - This is a collection of 48 dance tunes taught during the courses at Socourt France between 2004 and 2016.  The workshops were led by Eleonore Billy.  These are the common workshop tunes being used in France.  The French Nyckelharpa web site has downloadable .pdf copies as well as .mp3s and teaching videos for all of these tunes. The link for this site is on our links page. These pieces are meant to be played by any level of musician. The book is in French.
All of these publications are available through us. Here is a link to the order form.
(Note: Any text that is a different color and underlined is a link to another web page. Clicking on it will take you there.)
(Page last updated on 1/25/2023)